Fresh Prana, founded by Chloe and Chris, hosts of the annual Incredible India Yoga Tour since 2017 is now joining efforts with Fil-Soul travel, founded by our dear friend Lina Grisales, to create a brand new Spring Edition of the India Yoga Tour. In Spring of 2020, Lina and Chris will be hosting the tour and guiding you through the mystical and intense India, offering yoga, meditation and others spiritual practices during the tour.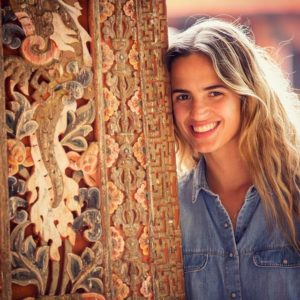 About Lina Grisales:
Lina started her journey in Colombia back in 2011 when she made the decision to transition from her hectic corporate life to follow her passions of guiding others in spirituality and creating sustainable-ecotourism experiences. Having spent several years working in the corporate world, she realized that the excess stress and pressure in peoples work and home lives could cause undue anxiety and unhappiness. Lina discovered that as she began taking yoga classes practicing more mindfulness, it enabled her to be more present, conscious and fulfilled. These practices have made her aware of some of the many powerful methods and teachings of self knowledge that allow us to unlock and experience inner peace, love and the happiness that is within each of us.
Since then she has continued  practicing and studying internationally, in countries like Colombia, India, America and Australia. She has studied more than 200 hours RYS in Vinyasa and 200 hours RYS Purna yoga and several courses in transcendental meditation, Vipassana, art of living and The Isha Judd system.
Lina created her brand Fil-Soul travel to help vulnerable and remote communities in Colombia through bringing in sustainable ecotourism. She has created many unique experiences which has educated travelers by immersing them in the remote traditional cultures while boosting the local economies and preserving their communities and their way of life.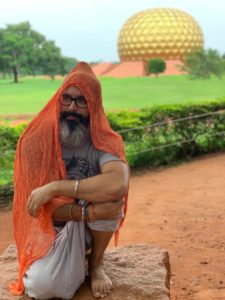 About Chris Maanas:
After several years of teaching Reiki Usui and Energy Healing Chris discovered yoga and instantly became serious about the practice. While traveling in Rishikesh, India, he completed his first 200 hour RYT in Vinyasa Yoga, and later also completed a second 220 hour RYT certified by KRI as a Kundalini Aquarian Teacher in Level 1.  Since then Chris has already completed three certified KRI Level 2 trainings with infamous teachers like Harijiwan, Tej, Gurujagat, Gurujas, Krishna Kaur, Gurujoda and Tony Nooyens. He is also an active practitioner of Sat Nam Rayasan regularly studying with Gurudev Singh and Sadhu. Chris is always happy and inspired to share his passion for yoga, healing, meditation, and traveling and he is deeply grateful for the opportunity to bring all of these passions together to create one amazing life changing experience.
---
Testimonials:
"For me traveling  to India has been a dream for so many years and I have to say the trip with Chloe and Chris exceeded my expectations.  I'm certain that the experience would have been completely different without their loving care and knowledge. The itinerary was as fantastic as it was authentic, and the local tour guide was not only polite and smart, but funny too." -Mary
"India was never on the radar until we met Chris and Chloe. Seeing India through their eyes of love is a journey that my husband and I will never ever forget, and a true blessing.  It has forever changed us both in some very big and powerful ways. I feel like I am vibrating on a higher frequency since my return from India. I loved every moment of this amazing trip! It was filled with rich experiences, connecting to the people, the land, the culture, a day with the elephants, a camel ride in the desert, doing service at the Golden Temple, The Beatles Ashram, yoga practice in beautiful and sacred places, and so much more. And you can't beat the chai tea!!!! We felt extremely safe and cared for daily. Our accommodations were always very beautiful and comfortable in great locations, and our buffet meals were appealing and healthy with much variety. I am quite grateful to have traveled with Chloe and Chris on this incredible adventure and highly recommend it." -Ellen
"The Incredible India trip was an experience of a lifetime. The itinerary gives you a true India experience as it includes an overnight train ride and auto/cycle rickshaw rides. Chloe and Christian complement each other very well as leaders of the group and were always very receptive to feedback from the group. Be prepared to be overwhelmed by India and also to be moved spiritually!" -E.C.
"All the logistics were taken care of, all sites were scheduled… It was truly a no-brainer kind of trip, which we really liked.  I truly enjoyed all of the yoga classes, vinyasa flows, and hip/shoulder openers. Will we choose to travel with you guys again? ABSOLUTELY! YES, THAT IS" -Sophia
"I have been fortunate enough to cross paths with Christian and Chloe who remain close friends today. They have been nothing but loving, honest, and compassionate with me and everyone whose lives they touch. When I look at them, I see true love. They are healers and I feel truly grateful to have them in my life."  -Hannah
"You pass-by hundreds of people without eye contact, when we passed Chloe and Christian, our hearts smiled to each other. Wise people say that journey is more important than the destination. So true!  What else could I say about your future travel companions? I would be on board in no time!"  -Szymon